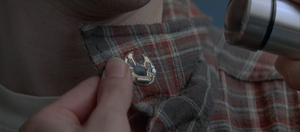 The Translator Device is a device used to decipher and interpret alien languages into the native language of the wearer.
The functions of the device were not explained in detail to Alex Rogan. The local two-way communications and translator feature facilitated Alex Rogan's understanding of the Rylans, as well as the Bogati, and Maio.
The Rylans affix a translator device to Alex's shirt collar so that he can understand spoken alien languages in his native English.
Ad blocker interference detected!
Wikia is a free-to-use site that makes money from advertising. We have a modified experience for viewers using ad blockers

Wikia is not accessible if you've made further modifications. Remove the custom ad blocker rule(s) and the page will load as expected.