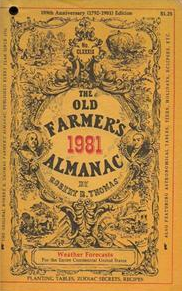 The Old Farmer's Almanac is a reference book that contains weather forecasts, tide tables, planting charts, astronomical data, and recipes.
The publication is very popular among the residents of Starlite Starbrite trailer park. The almanac is reference book that reads like a magazine and contians much information.
Alex overhears some of the men at the trailer park discussing how much they enjoy reading the Farmer's Almanac.
Ad blocker interference detected!
Wikia is a free-to-use site that makes money from advertising. We have a modified experience for viewers using ad blockers

Wikia is not accessible if you've made further modifications. Remove the custom ad blocker rule(s) and the page will load as expected.