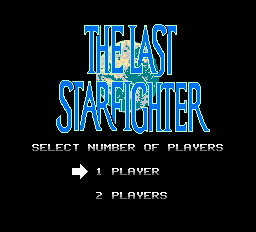 A game entitled
The Last Starfighter
was released in 1990 for the Nintendo Entertainment System. It is a side-scrolling game where the player controlls a
Gunstar
and fights against enemy fighters and battleships. When a level is completed, the
Gunstar
initiates
Death Blossom
and destroys the battleship.
Sadly, this game is simply a remake of a Commodore 64 game entitled Uridium and aside from a few modifications, such as the title screen, theme music, and some of the sprites, it is only vaguely connected to the film.
Ad blocker interference detected!
Wikia is a free-to-use site that makes money from advertising. We have a modified experience for viewers using ad blockers

Wikia is not accessible if you've made further modifications. Remove the custom ad blocker rule(s) and the page will load as expected.