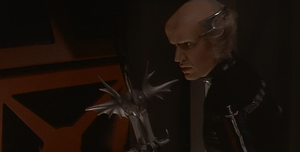 The escape pod is a capsule used to escape the Kodan Command Ship in an emergency.
The Kodan escape pods are small escape craft for use in emergences.
When the Kodans mutiny against Xur, he escapes the Kodan Command Ship in an escape pod, before it crashes into the Rylan moon, Galan.
Ad blocker interference detected!
Wikia is a free-to-use site that makes money from advertising. We have a modified experience for viewers using ad blockers

Wikia is not accessible if you've made further modifications. Remove the custom ad blocker rule(s) and the page will load as expected.